Revised: 03/07/2012
eReach B2B eMail Marketing Consulting Services
Rainmaker eDesign services offers a complete range of collateral, B2B e-mail and web design and development, services to help our clients build and upgrade their interactive marketing capabilities and online presence:
Strategy

Creative Development

Targeted Content Development

Web Consulting, Design and Development

Complete Interactive Marketing Outsourcing
Our designs and copy are crisp and professional, efficient but compelling. We utilize an extensive database of hundreds of thousands of high resolution photographs and the highest quality photo objects to convey the message you want to appeal to your target markets.
Rainmaker can engage on projects as large as complete web-site design or scoop-to-nuts turn key Interactive Marketing programs to discrete collateral or e-mail design projects.
Regardless of the scope, Rainmaker is committed to saving our clients time and money. We accomplish this by applying our Interactive Marketing experience and Web expertise and tailoring our proven processes — in practical ways — to meet each client's specific needs.
Utilize Rainmaker eDesign Services to produce marketing materials such as:
Interactive E-mail Campaigns

Websites

Product Announcements

Press Releases

Newsletters

Promotions

Webinars

Invitations

Service Renewals

Seminar and Meeting Announcements

User Group Notices

Flyers

Redemption Coupons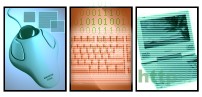 Call us @ (877) 418-5588
Join Our Mailing List

Organic vs. PPC Search Engine Optimization
"In this article, we will explore the strengths and weaknesses of both methods of search engine marketing.

Today, there is a big myth that natural search engine optimization is inexpensive and easy. For example, if you wanted your web site to rank high for the keyword phrase "life insurance" or "debt consolidation" you're going to need to budget a minimum of $50,000-100,000 a year!

Read More...