Revised: 03/07/2012
eReach B2B e-Mail List Append Services
Have you built a sizeable database of customers and prospects over the years but lack important capabilities such as the ability to identify other decision makers within the account or have incomplete information that does not include e-mail addresses, etc.
Rainmaker's B2B e-Mail List Append service can complete the missing links in your database for efficient and cost effective communications, customer acquisition and cross/up selling activities.
A Rainmaker Partners consultant can confidentially analyze your customer and prospect databases and put together a plan to cleanse and append your databases to meet your individual needs. Click here to see a sample customer database before and after eNrich.
eNrich provides you with solutions to append your customer and prospect databases with new contacts and fields to increase your ability to penetrate, cross sell and up sell within new and existing accounts.
Enhance your customer and prospect databases by appending the following:

eMail Addresses

Phone Numbers

Fax Numbers

Additional Contacts

SIC codes and many more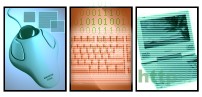 Call us @ (877) 418-5588
Join Our Mailing List

Organic vs. PPC Search Engine Optimization
"In this article, we will explore the strengths and weaknesses of both methods of search engine marketing.

Today, there is a big myth that natural search engine optimization is inexpensive and easy. For example, if you wanted your web site to rank high for the keyword phrase "life insurance" or "debt consolidation" you're going to need to budget a minimum of $50,000-100,000 a year!

Read More...